Village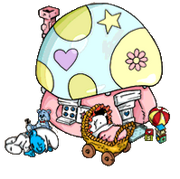 Baby Smurf is one of the many premium characters in the game, he costs 30

and crawls around your village. Every few hours, he will have a baby bottle floating above his head, once you tap on him, he will award you 60

.
Space
Baby Smurf is also available on the Swoof Planet, he costs 20

, which is 10

less than on the village. He is stationary on the Swoof Planet and comes along with Puppy. You have an option to bury 3 bones for Puppy, then you can place Puppy anywhere on the on the planet for him to start digging. Once he is finished, tap on him to see if has found anything, but he can sometimes end up with finding nothing. To obtain the bones, you can play The Naughties' minigame to get a chance to win one, another way of finding bones is digging on the Mountain, and the Swoof Planet.
Ad blocker interference detected!
Wikia is a free-to-use site that makes money from advertising. We have a modified experience for viewers using ad blockers

Wikia is not accessible if you've made further modifications. Remove the custom ad blocker rule(s) and the page will load as expected.